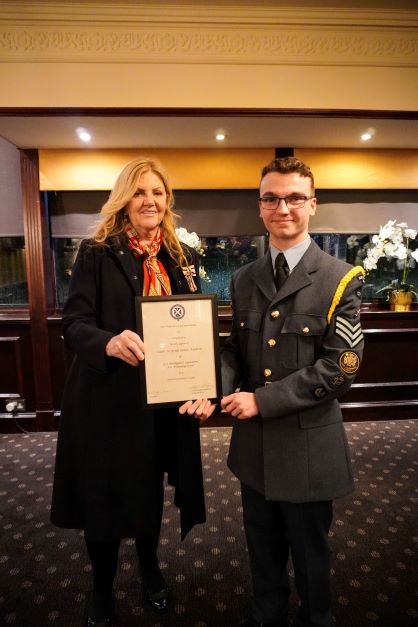 Over recent years within the Lanarkshire Lieutenancy a number of Advisory Groups have been established to ensure that there is full engagement and support for communities and businesses across Lanarkshire . The Uniformed Organisations Advisory Group is chaired by Deputy Lieutenant Colonel Stuart Roberts and this update provides  some background to its establishment and how it is working .
Historically, each Lord Lieutenant was responsible for organising the county's militia. The responsibility of the Lord Lieutenant over the local militia was removed in 1871. However, it was not until 1921 that they formally lost the right to call upon able-bodied men to fight when needed. But, as the Monarch's representative, Lord Lieutenants retain a close relationship with the Armed Forces.
With COVID impacting on all our lives, the past couple of years have been a challenge for the Lieutenancy in maintaining support to the many uniformed organisations operating in Lanarkshire. While virtual contact has been maintained with a number of organisations, there have been few opportunities to support physical events, although the Lord Lieutenant was represented at a number of Remembrance services, laying wreaths at more  than 60 memorials in North and South Lanarkshire.
The Lieutenancy continues to maintain a strong and effective relationship with the Armed Forces, largely through the formal membership of the Lord Lieutenant on the Lowland Reserve Forces' & Cadets' Association Committee. Each year, the Lord Lieutenant appoints a number of Lord Lieutenant's Cadets who will often accompany the Lord Lieutenant on official duties, in particular those relating to the Armed Forces. In 2020, Cadet Flight Sergeant Stephens of 1271 (Bathgate) Squadron, Royal Air Force Cadets, was appointed Lord Lieutenant's Cadet . The photograph below shows the Lord Lieutenant presenting Cadet Flight Sergeant Stevens accompanied by members of his family .
The Lieutenancy also enjoys close association with Police Scotland, with particularly strong links with the Retired Police Officers Association Scotland, Lanarkshire Branch, and the Lanarkshire Police Historical Society. And we continue to make efforts to establish a relationship with and provide support to other uniformed organisations including the Scottish Ambulance Service, Scottish Fire & Rescue Service, and the myriad of  youth organisations including, but not limited to, Scouts Scotland, The Boys' Brigade, and Girlguiding Scotland.
Engagement by the Office of the Lieutenancy tends to be reactive. However, there will always be events and activities where the presence of the Lord Lieutenant – or one of her deputies – as representative of Her Majesty the Queen would be appropriate. Notwithstanding the ongoing effects of COVID-19 on activities, the Lord Lieutenant remains keen to engage with and promote the exceptional contributions our uniformed organisations make to society. If you have an activity or event where you feel the presence of the Lord Lieutenant would add value, we would be delighted to hear from you.