Dorothy and Leo Clifford first met on the crowded floor of Hamilton's hugely popular Trocadero in 1958.
They fell in love but Leo had to do his national service abroad. But that didn't stop him. When he came home on a visit at Christmas 1961 he proposed. And when he finished national service they were married on 27 October 1962 at St Annes Church followed by a reception at the Hillhouse Inn.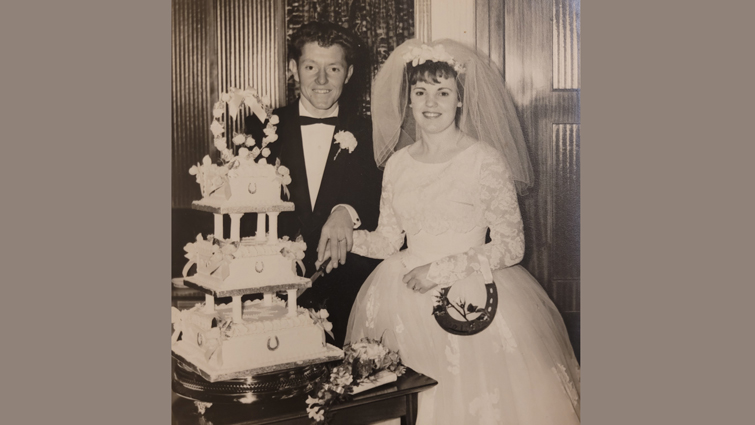 On hand to help them celebrate their 60 years together was South Lanarkshire Provost Margaret Cooper, who presented the couple with flowers, a special bottle of whisky and a certificate on behalf of the council. And joining her was Deputy Lieutenant for Lanarkshire Alexander Wilkie MBE, who also presented them with a certificate to mark their achievement.
Leo, who came over from Ireland in 1955 to live with his aunt in Blantyre following the death of his mother when he was just 17, worked at Shawfield Stadium while Dorothy was a shorthand typist in a lawyer's firm.
The couple soon moved to East Kilbride where they started their family which soon grew to three sons and two daughters.
Later they decided to buy land that was formerly an old sewerage works in High Blantyre and Leo built the house there in 1978. They then set up a garden centre business there which they ran for many years until a house fire made them decide it was time to retire in 2015.
Nowadays they have 16 grandchildren and six great grandchildren which takes up a lot of their time. They also love gardening and travelling.
Both agree that it doesn't feel like 60 years since they married. And the secret of a happy marriage is always putting the other one first, compromising and despite many ups and downs, they never complained and just got on with life. They both feel very lucky that they have had such a strong marriage over the years and are blessed with their family.